Provence Style Lamps: Suspended Ceiling, Wall And Table Lamps
Provence style is from France, and it is named after the eponymous region in the south of the country, which is famous for its lavender fields, proximity to the sea, warm and mild sunny climate. An example of authentic Provencal design can be considered as the interior of a rural house, sweet and cozy, but unpretentious, dominated by stone, white plaster, wooden surfaces, textiles, other natural materials, and paints, which seem to be sunburned. The luminaries in Provence style match the interior direction, but their modern and retro-interpretations are so diverse that they deserve the closest attention and thoughtful choice. Lush and modest, elegant and rough, as in the photo below, in a suitable interior, they always look spectacular, cozy and organic.
Distinctive characteristics
Designers who create interiors in Provence style are inspired by its natural colors and natural shades: blue sky, blooming lavender, greens burnt in the sun, flowers of sand, sea, grass, earth, olives. The walls of the rooms are painted in dairy, creamy, greenish, light blue, lilac, whitened tones, as in the room in the photo below, are covered with wallpaper in a small flower. The ceiling can be pure white, decorated with stucco or wooden beams, on the floorboards, parquet, flooring. From the furniture in the interiors of Provence style wooden cabinets, cupboards, sideboards and dressers, bedside tables, tables on openwork legs made of metal in bright colors prevail. Textiles – natural linen, light shades, with lace, embroidery, floral print.
Provence style to hand-made, embroidered, knitted napkins, curtains, woven rugs, especially such accessories is relevant in the kitchen. Authentic in the dining room and the kitchen looks various copper dishes, bunches of herbs, in the rooms – ceramic jugs with bouquets of dried and fresh flowers. On this picturesque background, the lamps in the Provence style look especially impressive, and they literally reign in the exquisitely romantic and simple village interiors.
Types of lamps
Proven lamps, like all other sources of interior lighting, can be divided into several types, including:
wall (sconce);
ceiling lights (ceiling and hanging chandeliers, lamps);
floor standing (floor lamps);
table lamps.
What materials are used for manufacturing?
Since interiors in the spirit of Provence are characterized by the predominance of natural materials and natural colors, lamps for such rooms are selected in the same vein. The basis for most chandeliers, sconces, and lamps is metal. This may be steel, painted in light colors, bronze, brass, nickel, fancy forged base in a dairy, gold, silver or even black color. Modern interiors with notes of Provence often use wooden lace chandeliers painted in ivory and other warm colors.
Popular in the approximate to the rustic design is cozy lampshades made from dairy, olive-green or turquoise textiles with or without floral patterns, wicker openwork rattan plafonds and vines. Despite their fragility, along with glassy milky-white or colored glass shades in the Provence style chandeliers, ceramic and porcelain ceiling lamps are often used, painted as in the photo.
The miniature wall and large ceiling lamps decorated with crystal and glass pendants, chains, and whole garlands in which the light of electric lamps beautifully plays and refracts looks particularly rich and spectacular. Transparent elements are mounted on a metal base, which looks fragile and weightless, emphasizing the elegance and even pomp of the chandelier.
The decor and features of Provence style lamps
Such materials as beads, glass beads, glass pendants, chains are used as decoration for olive chandeliers, floor, and wall lamps. They hang transparent sparkling waterfalls from metal bases, decorate textile lampshades along with a long fringe, lace, painting, embroidery, ribbons, as in the photo. At the same time, the print of textiles must necessarily overlap with the color of the wallpaper, walls, carpet, and upholstered furniture. If we are talking about a chandelier with wrought iron elements, then some piece of furniture in the room should have the same or similar details. For example, it could be a coffee table on a wrought base, openwork backs of chairs, a console made from an old sewing machine, a shelf, a bookcase with appropriate trim, or a headboard.
The metal parts of the luminaries in the Provence style are painted not only milky, cream-colored or ivory, but also in blue, turquoise, olive, echoing with other interior moments. Often used silver, bronze coating, gilding, it can be artificially aged, with a patina, slightly peeling paint to give the chandelier a retro effect.
The lighting in the Provencal interiors is soft, muffled, dim. It is given by lamps of a warm spectrum, with a yellowish shade. The lamps themselves often imitate the shape of candles, especially if they are not covered with lampshades and shades, and are usually directed upwards, which gives diffused artificial lighting home-like cozy and comfortable.
Colors and textures
Strict restrictions on the colors of lamps in the style of Provence no. It may be warm and cold, and pale cream tones of the white spectrum, but all of them are the word bleached by time or burned out by the bright and hot sun of the French south. Changes of light shades with small floral prints or paintings, as well as pale olive, herbal, lilac, pinkish, blue and lavender lampshades, and lampshades are more common. Special attention should be paid to fabric lampshades in the form of bells, French lilies of coarse flax, decorated with embroidery, handmade lace, fringe, ruffles, as in the photo.
Shapes, sizes, design
Ceiling chandeliers in the Provencal interior usually have round, conical shapes or resemble a ball, a semicircle, a star with rays according to the number of lamps and plafonds. The size depends on the size of the room, it is possible to use two or three chandeliers or a combination of a single ceiling lamp with wall sconces and table lamps, hanging over the dining table in the kitchen or dining room. All lamps in the same room are often designed in the same style. It is better if they are purchased with a set of hanging chandeliers and twin wall lamps, although sometimes lamps of different designs look much more effective.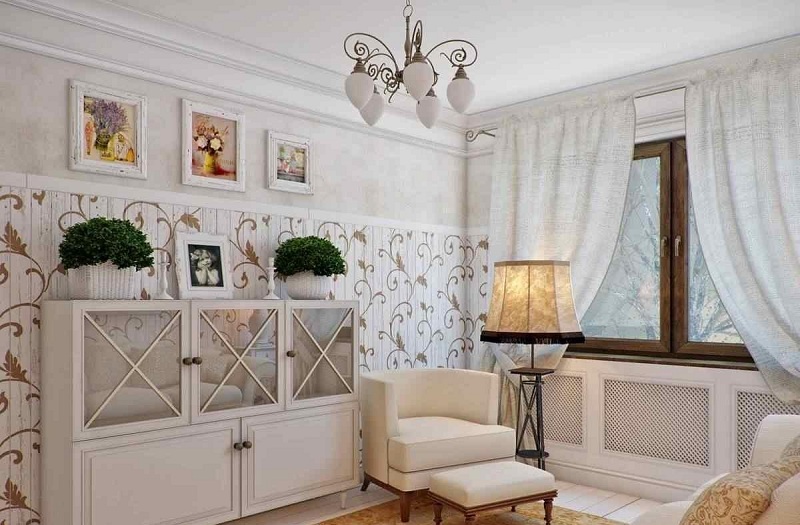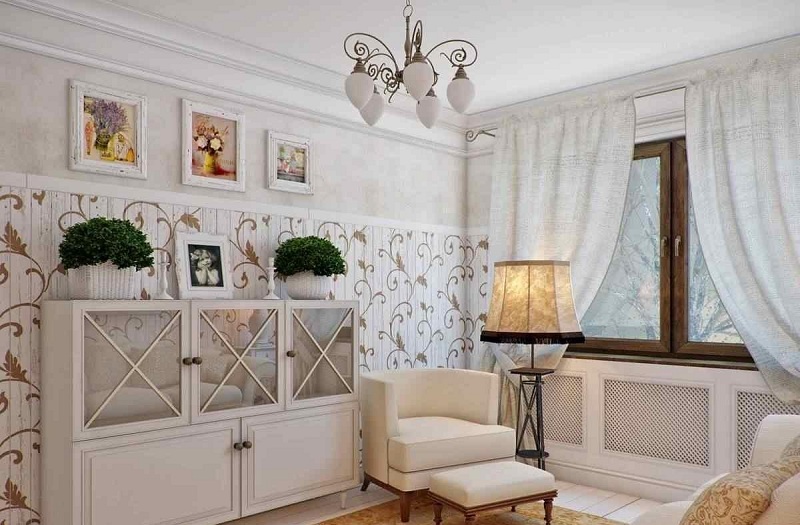 Today, Provençal chandeliers, floor lamps, sconces are represented on the market by a huge variety of forms, from classic openwork models, wicker "baskets" and fabric lampshades to products with glass shades in the form of flowers, with colored leaves and buds. There are also "medieval" forged chandeliers, decorative "bird cages", "street lamps" with transparent and colored stained glass, elegantly patterned lamps with smooth curved lines and whole bouquets, bunches of grapes, ivy branches from metal, crystal, and glass.
How to choose a suitable model?
Choose a lamp suitable for your apartment or house in Provence style, taking into account its size and proportions of the room, the optimal intensity of illumination, type of location, design. In most rooms, one cannot do without a central chandelier, which gives a soft and diffused, but at the same time quite bright light. Large models or several identical chandeliers of medium size will illuminate the spacious living room, kitchen-dining room. Suspended lamps of two and three tiers are suitable for rooms with high ceilings, ceiling – for low ceilings. Additional light sources are placed on bedside tables, tables, consoles (table lamps), in cozy corners near chairs and sofas (floor lamps), on both sides of beds, sofas, mirrors, in the hallway (paired wall sconces).
For the dining room, the living room will suit a beautiful forged design with snow-white glass shades or lamp candles and transparent pendants. As night lamps for the nursery and bedroom, you can use sconces with stained glass. Wall models to illuminate the area with a mirror in the hallway, the bathroom are better to choose without lampshades and lampshades. In this case, the light should fall on the one who is reflected in the mirror. Near the mirror in the living room, on the contrary, you can set the wall lights so that they reflect in the mirror, and their light multiplies and refracts.
In the Provence kitchen, hanging lamps with painted shades, lace, fabric, wicker lampshades over the dining area are appropriate. For the nursery, you can choose a model with floral decoration, and for the bedroom – a stylish carved wooden chandelier or a pair of "flashlights" on long hangers. The main thing is that the lamps in Provence style are combined with the interior of the room where they will be located, and you like them.
If you haven't found a suitable option, try manually decorating a classic white lampshade or an old chandelier with shades, decorating it with a flower painting, decorating it with fabric, lace, jute rope, glass bead, painting white or bronze metal parts. It is not so difficult to make an original Provencal lamp by yourself, especially since the style itself is creative and inconceivable without handmade items. Good luck and inspiration!